Gas turbine surface technology, process development & tech transfer
Electron offers more than only high-quality cleaning and coating equipment: we also provide unique process development and technology transfer packages as a turnkey solution to meet surface treatment and thermal processing needs for superalloy component coating and repair.
Concerns of internal process development
As NPM (New Parts Manufacturing) or MRO (Maintenance, Repair & Overhaul) service provider your customers trust you to coat, repair or replace their original gas turbine blades, vanes and other parts, in order to increase the operational performance and extend the service life of the gas turbine as much as possible.
Doing your own R&D when it comes to surface treatment processes can be challenging. A lot of our customers struggle with:
High costs
Too time-consuming
Lack of expertise
Process complexity
Limited access to technology
Limited applicability
Compliance and regulations
Advantages of Electron's process programs
Whether to improve the efficiency of an existing surface treatment process, or to set it up for a new component, consistent and repeatable results throughout the entire chain of steps are key. We understand all surface treatment processes for turbine components and how they link together.
The main reasons why NPM and MRO companies and consultants ask us to help them with their processes are:
Optimized efficiency
Increased quality
Cost-savings
Competitive advantage
Meeting specific requirements
Improved safety and compliance
Higher customer satisfaction
Image

"Our unique process development and technology transfer programs meet surface treatment and thermal processing needs for superalloy component coating and repair."
John Cuthbert | Senior Engineer Electron - Heat & Surface Treatment
Integral process technologies for superalloy component coating & repair
The process technology offerings from Electron include proven processes for chemical acid/alkaline stripping, FIC/HFIC/HF Ion Cleaning, diffusion coatings and various types of overlay coatings. Because of our extensive experience with the entire chain of steps, we understand the importance of the quality specifications of each surface treatment step in order to meet the requirements for the next step.
Partnering with Electron eliminates many uncertainties, saves a lot of time & resources and reduces the overall risk factor of developing & implementing new and untested methods and processes. And since we do everything in-house, we are able to guarantee the quality of the end product.
Process technologies for the gas turbine industry
We provide a value-adding platform upon which aerospace and IGT MRO companies, as well as new parts coating providers, can integrate new process technology & equipment in a timely and cost-effective manner.
From basic process development ranging all the way to a whole facility, fitted with every aspect of process equipment and technology including a fully-licensed technology transfer. Either based on Electron thermal surface heating equipment or from a third-party brand.
This wide collection of services enables our customers to implement tailormade and turnkey gas turbine processing technologies for maintenance and repair activities of superalloy components.
Surface engineering according to OEM specs
Our process technology development programs are the result of many enhanced cleaning and coating processes for gas turbine components.
Valuable industry experience with major OEMs such as Ansaldo, General Electric, Rolls Royce and Safran ensures a thorough understanding of the essential project requirements for a successful implementation, along with practical and production-friendly techniques, all with a clear focus on customer deliverables.
We make sure that OEM qualifications are met and that the parts are ready for recertification.
Improving efficiency for NPM and MRO companies in the gas turbine industry
Electron offers a full process development & technology transfer program for specialized superalloy component cleaning and coating. Benefit from advanced technologies without spending on internal R&D time and resources.
Immediate implementation with a turnkey solution
With tailormade, turnkey process development and tech transfer programs we hand over the process technologies from research and development to your organisation. So you can start with immediate production implementation and revenue generation.
Fully licensed tech transfer
The goal of our tech transfers is to make you benefit from the best and most innovative technologies available for your processes.
Our fully licensed technology transfer includes all process know-how and training of engineering and production personnel to readily apply and operate the systems.
Advantages of Electron tech transfers
Acquire new technologies
No R&D resources needed
Adapt to new materials
Improve efficiency
Enhance quality
Ensure compliance
Reduce costs
Included in the tech-transfer package
Process & hardware designs
Masking instructions
Donor/activator material specs
Process recipes
Work instructions
Waste estimates
On-site support
Our process development & tech transfer: how does it work?
It's evident that Electron's process development and technology transfer offer many advantages. But what are the main phases or steps of the entire process? View the infographic below for an overview of all the steps and a short description for each step.
Image

Electron: Integral equipment & process solutions for gas turbine parts overhaul
Electron can also support your ongoing operations with high-quality cleaning furnaces and coating systems. As well as high-technology processes such as chemical acid/alkaline stripping, dynamic FIC/HFIC/HF Ion cleaning, vacuum diffusion brazing, Platinum electroplating and pack/VPA/CVD diffusion coatings.
Read more on how our equipment and process solutions help gas turbine MRO providers with fast, consistent and reliable overhaul of hot section gas turbine parts.
Image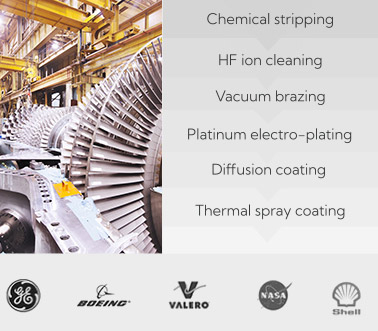 Electron offers turnkey process development & technology transfer solutions. Do you coat, repair or manufacture gas turbine components? Partner with us!