Integral equipment & process solutions for gas turbine parts overhaul and repair
Image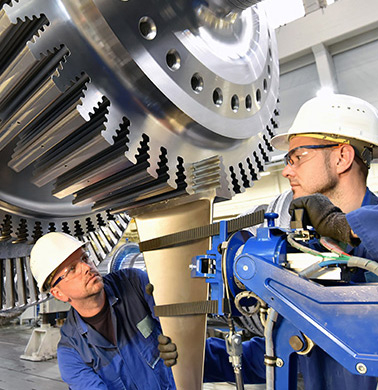 Precise and consistent results
As an MRO provider within the different gas turbine industry sectors, you are focused on gas turbine component cleaning, inspection, repair and coating. You know that each step of this complex process requires optimum precision to prevent problems in the next phase. Inferior execution of a previous step can result in a non-conforming part which may lead to unplanned TAT delays and with increased financial & reputational losses.
But how to prevent this? How can you rapidly and routinely repair gas turbine blades and other hot path components without inconsistencies?
Turnkey solutions
What you would need is an integrated technology approach with superalloy material & surface treatment procedures. A plan that includes all necessary equipment as well as process technology know-how.
Electron helps manufacturing and MRO providers with swift, consistent and reliable processing of hot section gas turbine parts by providing high-quality surface treatment systems, process development and integrated tech transfers.
Our integrated turnkey equipment and specialized technology solutions for cleaning and coating of gas turbine components will lead to maximized investment returns.
Image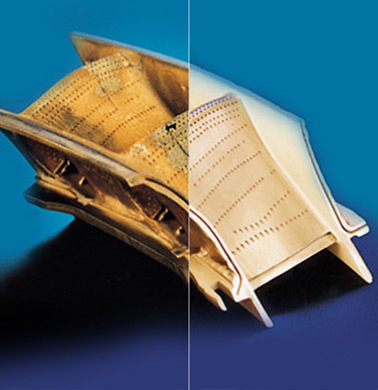 Electron's full process technology transfer program for fast, consistent and reliable hot section gas turbine parts overhaul:
Image
Benefits of our integral process for maintenance, repair and overhaul of gas turbine parts
Electron is the dedicated partner for manufacturing and MRO providers, as our equipment and services focus on all sectors of gas turbine global supply chains. We are a one-stop-shop for high-quality superalloy material preparations and coatings equipment. Along with process technology tech transfers and combined with bespoke consulting services. A selection of the benefits when partnering with Electron for specialist processing include:
MRO for the aerospace and industrial gas turbine industry.
Electron - Experts in surface treatment technologies
Chemical stripping of protective coatings
Image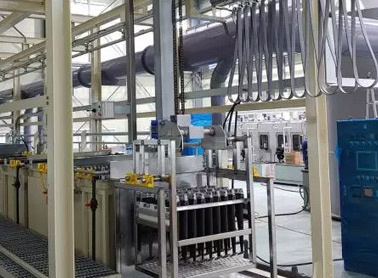 Successful removal of protective coatings is the first step of the gas turbine overhaul & repair process. The predominant industrial method is complete part immersion in an acid bath solution utilizing concentrated acids such as Hydrochloric, Nitric and Phosphoric.
Electron supplies integrated turnkey chemical coating stripping systems for the efficient removal of diffusion & plasma-applied protective coatings and specifically focused on the gas turbine MRO sector.
In addition, we provide supplementary processing tasks such as acid barrier masking and heat tinting furnaces for successful coating removal inspection and evaluations.
Image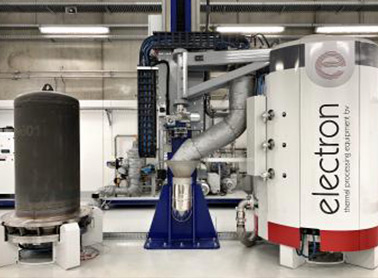 Once the component has been stripped of its protective coatings, the next step is a crack defects identification. An HFIC (Hydrogen Fluoride Ion cleaning) furnace will clean and process deep fissure cracks within superalloys.
Electron offers safe and effective methods for cleaning hot-section gas turbine superalloy components. With our customized and customer-specific HF Ion cleaning furnaces, parts can be prepared compliant with OEM process specifications and in advance of vacuum diffusion brazing.
Image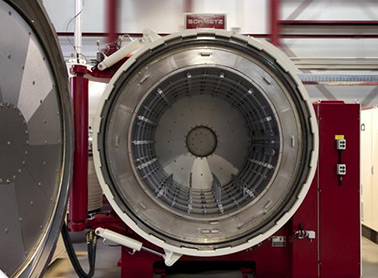 After HFIC processing, the cleaned & prepared parts are ready for the next thermal treatment process: diffusion brazing with a high vacuum furnace.
Electron provides various horizontal and vertical vacuum furnace designs and with all units supplied as a perfectly matched production combination for maximum operational flexibility.
All vacuum furnace units meet OEM diffusion brazing specification requirements such as:
GE's ADH process, P&W's TURBOFIX process, SAFRAN's BD/RBD process and other OEM or customer-specific braze processing specs.
Tailored to each individual application, we equip a vacuum furnace with high-capacity dry screw/roots vacuum pumping systems, process sized diffusion pumps, rectangular or round hot zone geometry's, and with Graphite based and/or Molybdenum hot zone chambers available. Our wide range of standard sizes offers a suitable furnace combination with a matching HFIC unit for each particular component.
Image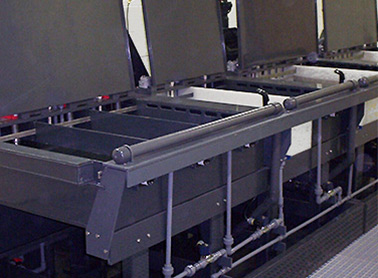 To increase the service life of hot section superalloy gas turbine components, we offer conventional Platinum electroplating systems & technologies for various processing methods.
Our innovative Platomation system addresses the challenges of maintaining correct plating bath chemistry's and demanding daily maintenance activities. Platomation processing technology brings genuine productivity gains and is a cost-effective and reliable method for the processing of Platinum electroplating.
Image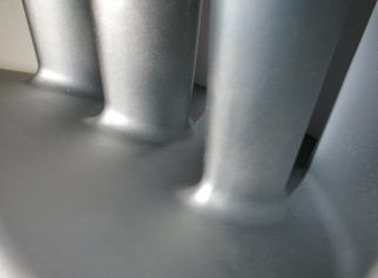 After stripping, cleaning, brazing and optionally Platinum electroplating, the next stage of processing is to apply protective coatings.
Electron offers high-end diffusion coating furnaces for additional oxidation and corrosion protection of critical hot section components. Thanks to the availability of large process chamber dimensions, our coating furnaces offer high-capacity coating batches.
We are qualified to supply coating furnaces and all supplementary equipment, including slurry type applied coatings, Powder Pack Cementation coatings, VPA coatings and our unique hybrid CVD coating system for component Aluminising. All our coating systems are designed based on many years of practical experience in processing within this highly-specialized and demanding process discipline.
Image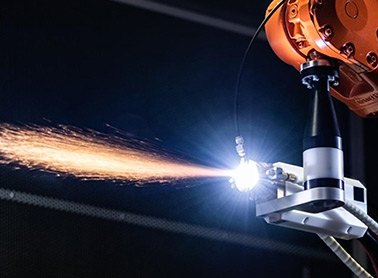 Thermal spray overlay coating is an additional protective coating application technology. Especially relevant within the new part manufacturing and MRO repair industries.
Electron offers versatile and flexible thermal spraying systems, including Vacuum Plasma Spraying (VPS), Atmospheric Plasma Spraying (APS) and High Velocity Oxygen Fuel Spraying (HVOF). These systems meet the majority of OEM/customer-applicable processing specifications.
All of these premium, high-quality thermal spray deposition units ensure the highest levels of performance. They are suitable for thermal spraying upon a wide range of superalloy materials and offer ease of use and long operational life cycles.
Image

Process development & tech transfers
Electron offers a full process technology transfer program for specialized cleaning and coating of hot section gas turbine components.
Integrated equipment & technologies for Gas turbine components MRO