Chemical Stripping Systems
Are you an MRO supporting your customers by extending the operational lifetime of their high-value turbine components? As an MRO provider in the aerospace or power generation industry, your company helps gas turbine owners to extract the maximum available operational lifecycles from their engines. And with the assistance of your advanced overhaul technologies, they can ensure swift turnaround times while consistently delivering high-quality repairs for optimal turbine efficiency and safely maximizing engine operating uptime.
For the chemical stripping of protective coatings, your main priority is to remove diffusion and overlay coatings with the smallest amount of superalloy substrate loss. Next to that, you want to ensure offering components are available for the next stage of repair processing. To achieve this, you may be looking for a new stripping system or wish to upgrade your existing equipment.
Electron offers superior chemical stripping systems, advanced technologies and proven processing procedures to extend the lifetime of hot-section gas turbine components. With input from our valued customers, we co-engineer high-quality stripping equipment, offering reliable and consistent processing results over long operational life cycles.
Image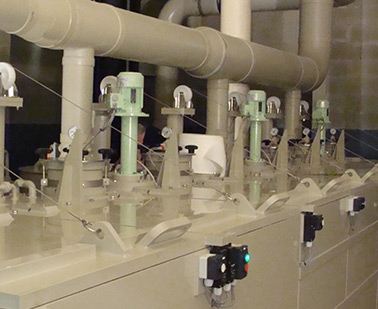 Chemical stripping equipment
We supply integrated turnkey technologies and processes for the efficient removal of diffusion and plasma-applied protective coatings, specifically focused on the gas turbine MRO sector.
As a result of our extensive experience in working with original equipment manufacturers, we assure quick and efficient chemical coating removal processes conform OEM/customer gas turbine coating removal specifications.
Customized stripping systems
The overhaul & repair of gas turbines is a constantly changing process and we appreciate that every customer has different needs and requirements and with all parts being controlled to strict OEM/customer processing specifications.
This is why Electron offers custom-made gas turbine stripping equipment and cleaning systems.
We design systems according to individual requirements. Additional items are available, such as component part masking and de-masking systems. Along with pre- and post-application processes as may be additionally offered on request.
Image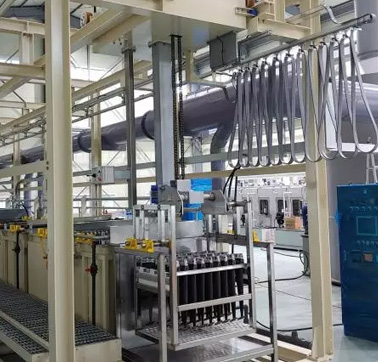 High-tech chemical coating stripping systems 
for hot gas path section components
Electron - Experts in Thermal Process Installations & Material Handling
Electron's innovative coating stripping technologies
Electron's chemical stripping coating systems can be applied to all gas turbine sectors and engine variants, ranging from small APU's right up to heavy industrial gas turbines (IGT's). Why? Because of our high-quality equipment combined with decades of experience and a relentless focus on innovation.
Green-Strip technology
Our patented and environ-mentally friendly 'Green-Strip' technology exploits greatly reduced acid concentrations and consequently reduced plant facility requirements for waste acid treatment and disposal activities.
Green-Strip technology can be utilized without any barrier masking on delicate machined surfaces.
Green-Strip results in: lower acid concentrations, a safer operating environment, lower installation requirements, more efficient stripping and significantly less waste product.
 
Alkaline stripping
Another innovation to conventional industrial acid stripping processes is Alkaline stripping. This is especially effective to remove Plasma/HVOF deposited MCrAlY type coatings.
Alkaline stripping is an environmentally friendly and safer alternative as there are no hazardous acids to be processed by operators during tank makeup and with greatly reduced follow-on requirements for waste treatment and a simpler disposal procedure.
Additionally, as in the case of HCl acid stripping systems, reduced requirements apply for ventilation systems to continuously remove noxious acid fumes, resulting in a safer working environment.
Fireproof & safe
Consistent with our 'safety first' design ethos, all chemical acid stripping systems offer safe and reliable working environments, including our unique and innovative 'Fire-Stop' and 'Exo-Heat' system technology designs.
'Fire-Stop' fume ventilation systems utilize automatic shut-off designs for Oxygen starvation of any potential fire event and as another additional layer of fire safety protection.
Our 'Exo-Heat' chemical bath heating systems utilize external (to tank) thermal heating designs for accurate temperature processing ranges and as another additional layer of fire safety protection.
MRO technology partner
Chemical coating stripping is the main first step of gas turbine overhaul in the process towards a component that perfectly matches all OEM's requirements.
Besides chemical stripping systems, Electron also offers supplementary processing tasks such as acid barrier masking and Heat Tint furnaces for successful coating removal evaluations. 
Image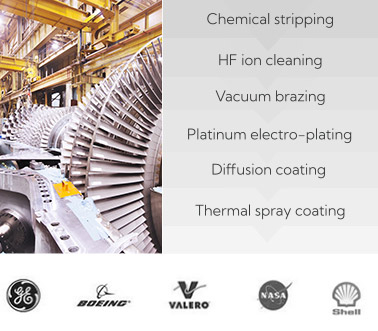 Image

Process development 
& tech transfers
Electron offers a full process technology transfer programme for specialized cleaning and coating of hot section gas turbine components.
Equipment and technology for the removal of diffusion & plasma applied protective coatings.