HFIC Hydrogen Fluoride Ion Cleaning Furnaces
Electron offers a safe and highly effective method for cleaning hot-section gas turbine superalloy components. With our Hydrogen Fluoride Ion Cleaning HFIC ovens, parts and cracks in turbine parts can be completely cleaned, in order to prepare them for renovation.
Image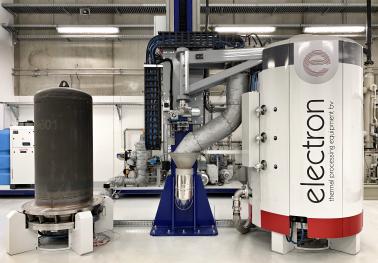 Fluoride ion cleaning
With fluoride ion cleaning (FIC) we allow fluorine to react with the oxides that have formed on the surface and in the cracks of the turbine components.

The FIC process converts the oxides into fluorides and ensures effective cleaning. FIC is often the preparation for vacuum brazing and other repair processes.en.
Electron HFIC furnaces
For the supply of HFIC cleaning furnaces in combination with vacuum furnaces for diffusion brazing of hot-section gas turbine components, we work together with Schmetz Vacuum Furnaces.

The result is an integrated solution of the required equipment for successful implementation of high temperature vacuum diffusion brazing including HFIC cleaning.
Image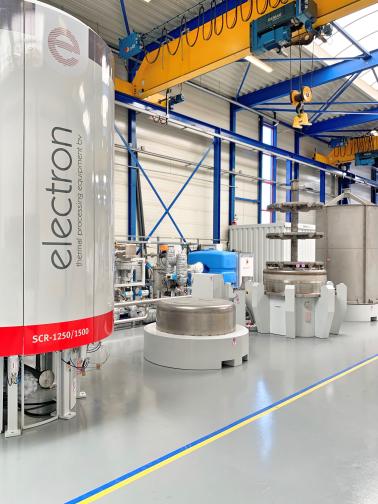 Benefits of HFIC ion cleaning furnaces
Dynamic project management
Up-front functional design and project management of all essential and auxiliary systems such as process gas(es), electrical supply, ventilation systems, exhaust gas vents, emergency cooling water systems, wastewater systems and IT systems/communications.
Extremely safe
Full safety and process HAZOP analysis and implementation of all gas monitoring alarm systems and integration with main fire alarm systems where required.
Flexible reactor volume
HFIC reactor specifications can be customised to achieve the optimum volumetric production capacity of future vacuum furnace processing loads.
Optimal production efficiency
Implementing lean manufacturing principles for best practice operator ergonomics in developing and maximizing existing floor space.
Custom solution
Fully customized and customer-specific systems with integrated HFIC cleaning furnace, vacuum brazing furnace and a clean room for brazing application procedures.
HFIC furnace for superalloy cleaning
Electron - Experts in Thermal Process Installations & Material Handling
HF Ion Cleaning Furnaces for cleaning hot-section gas turbine superalloy components.